The T Design History of Rubber B Straps
A symbol of exciting innovation, the signature T Design by Rubber B represents The Ultimate Rubber Strap. A luxury watch strap company who is based solely on innovation, Rubber B exclusively creates products that have never before been conceived by any other company.

In 2010 the first-ever integrated rubber strap for Rolex watches was created by Rubber B. The M102 connected flawlessly to a Rolex Daytona case and clasp. It featured a beautiful "T" design, which was aesthetically pleasing, as well as functional for active lifestyles. The T Design is now a world-wide industry-recognized feature, and it houses various types of inserts that have been calibrated for specific and numerous watch models and watch brands.

Over the years, Rubber B factory has continued passionate, scientific research and development processes, in order to achieve the most optimal advancements in rubber technology and design. This entails the imagination, creation and heavy investment in new machinery and methods, in order to bring such new innovations to fruition on a mass scale.

An excerpt from a Press Release in 2011: …Driven by a profound passion for luxury innovation, Rubber B has succeeded in engineering a precise design, which harmonizes with every esthetic boundary of an intended watch's. This allows owners to have the flexibility and comfort of a rubber strap, without compromising the classic, distinctive beauty that their watch and clasp represent. Rubber B products open the door for athletes, divers, outdoor enthusiasts, and individual luxury watch owners such as Rolex and Panerai, who are looking for a unique, comfortable alternative to their metal bracelets, leather bands, and Nato straps. Caution: Like most other luxury brands who are recognized by their design features, many replica knock-offs of Rubber B have been appearing online. It is important that you be aware of this misleading, fraudulent activity because although the T design may be present in a knock-off, the actual Rubber B technologies, methods, materials & calibrations cannot be duplicated outside of the Rubber B facilities in Switzerland. Rubber B's reputation is built on each customer's long term quality experience with all of our luxury products and services. Please avoid becoming a victim of fraud, and only purchase from the official website www.rubberb.com or an authorized retailer.

Below is a timeline that provides you an accurate perspective of the decade long journey of the beautiful T Design by Rubber B….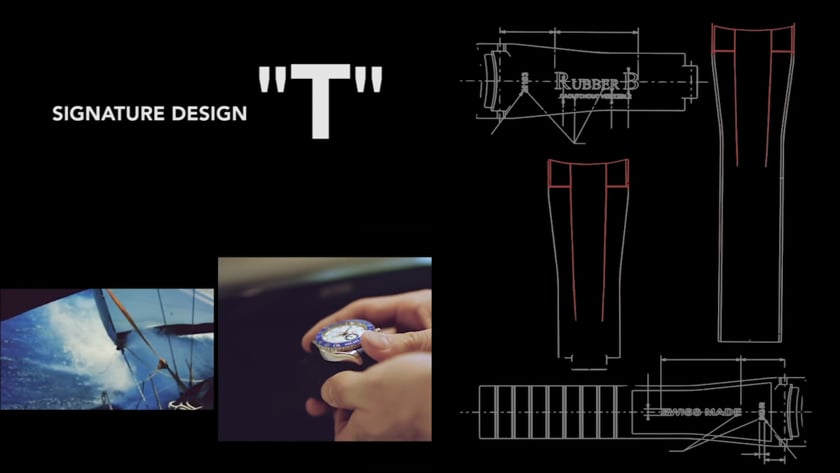 Rubber B is not affiliated with Rolex SA, Audemars Piguet Holding SA, Panerai, Patek Philippe SA, or Tudorwatch SA. Roger Dubuis & Rubber B is an official & exclusive collaboration between two independent brands, Manufacture Roger Dubuis, Branch of Richemont International SA and Rubber B LLC. Intellectual property rights of watches, visuals, trademarks, names and logos belong respectively to the related watch brand.