The T Design History of Rubber B Straps
A symbol of exciting innovation, the signature T Design by Rubber B represents The Ultimate Rubber Strap. A luxury watch strap company who is based solely on innovation, Rubber B exclusively creates products that have never before been conceived by any other company.

In 2010 the first-ever integrated rubber strap for Rolex watches was created by Rubber B. The M102 connected flawlessly to a Rolex Daytona case and clasp. It featured a beautiful "T" design, which was aesthetically pleasing, as well as functional for active lifestyles. The T Design is now a world-wide industry-recognized feature, and it houses various types of inserts that have been calibrated for specific and numerous watch models and watch brands.

Over the years, Rubber B factory has continued passionate, scientific research and development processes, in order to achieve the most optimal advancements in rubber technology and design. This entails the imagination, creation and heavy investment in new machinery and methods, in order to bring such new innovations to fruition on a mass scale.

An excerpt from a Press Release in 2011: …Driven by a profound passion for luxury innovation, Rubber B has succeeded in engineering a precise design, which harmonizes with every esthetic boundary of an intended watch's. This allows owners to have the flexibility and comfort of a rubber strap, without compromising the classic, distinctive beauty that their watch and clasp represent. Rubber B products open the door for athletes, divers, outdoor enthusiasts, and individual luxury watch owners such as Rolex and Panerai, who are looking for a unique, comfortable alternative to their metal bracelets, leather bands, and Nato straps. Caution: Like most other luxury brands who are recognized by their design features, many replica knock-offs of Rubber B have been appearing online. It is important that you be aware of this misleading, fraudulent activity because although the T design may be present in a knock-off, the actual Rubber B technologies, methods, materials & calibrations cannot be duplicated outside of the Rubber B facilities in Switzerland. Rubber B's reputation is built on each customer's long term quality experience with all of our luxury products and services. Please avoid becoming a victim of fraud, and only purchase from the official website www.rubberb.com or an authorized retailer.

Below is a timeline that provides you an accurate perspective of the decade long journey of the beautiful T Design by Rubber B….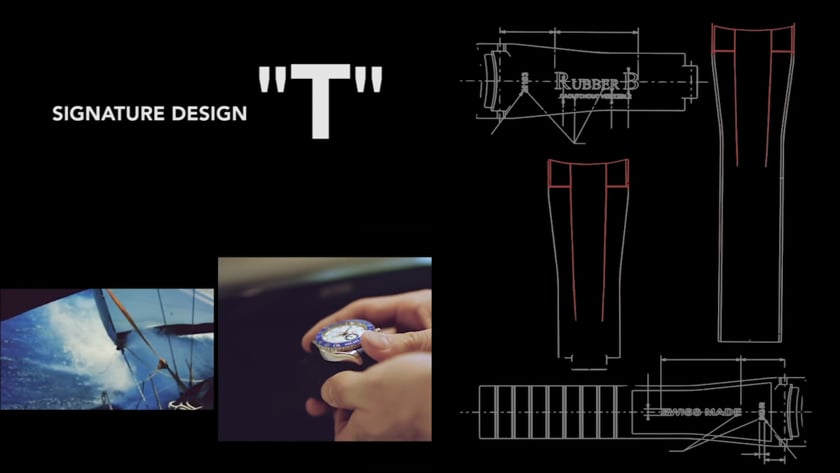 Rubber B is not affiliated with Rolex SA, Audemars Piguet Holding SA, Panerai, Patek Philippe SA, or Tudorwatch SA. Roger Dubuis & Rubber B is an official & exclusive collaboration between two independent brands, Manufacture Roger Dubuis, Branch of Richemont International SA and Rubber B LLC. Intellectual property rights of watches, visuals, trademarks, names and logos belong respectively to the related watch brand.
The complicated world of luxury watches has always been entwined with the search for innovation, with timepieces reaching unparalleled levels of refinement through adopting new materials and designs. The evolution of watch straps has stood as a testament to the industry's unwavering commitment to uniting design and function among the innumerable advancements that have influenced the history of horology.
The evolution of watch straps has been distinguished by a persistent drive for improvement, from the classical elegance of leather to the durability of metal. However, the introduction of rubber, a novel material at the time, sparked a revolution in the design of watch accessories. This was a watershed moment in the history of luxury watches, as the "First Rubber Strap for Rolex" would emerge as a game-changing innovation, forever altering our perception of wristwatch bracelets.
In the pursuit of this evolution, innovation became the driving force, forcing watchmakers to venture into uncharted territory and expand the bounds of both aesthetics and functionality. The introduction of the first Rolex rubber strap not only changed the concept of luxury watch accessories, but also opened the door to unprecedented comfort, resilience, and versatility. This essay dives into this key period in horological history, emphasizing the significance of this unique rubber strap and its long-lasting influence on the world of luxury watches.
The Rise of Vulcanized Rubber Bracelets
The landscape of luxury watch accessories changed dramatically in the mid-twentieth century, as classic materials like leather and metal gave way to an unexpected contender: vulcanized rubber. This extraordinary material, created through a unique vulcanization process, delivered a slew of benefits that would permanently alter the course of the watch strap design.
Advantages of Vulcanized Rubber over Traditional Materials
Vulcanized rubber possessed a one-of-a-kind combination of qualities that made it ideal for the tough needs of luxury watch wearers. Rubber, unlike its predecessors, proved to be incredibly lightweight, making it a suitable choice for prolonged usage. Because of its natural elasticity and durability, it contoured readily to the wrist, creating a snug fit that neither leather nor metal could match.
One of the most significant breakthroughs was the fact that it was naturally waterproof. While leather bands deteriorated when exposed to damp and metal bracelets necessitated frequent maintenance to avoid corrosion, vulcanized rubber was impervious to such issues. It became the ideal companion for people who lead busy lifestyles or who venture into aquatic regions.
Adoption of Rubber Bands by Swiss Watchmakers in the 1950s
The 1950s were a watershed moment in the history of horology. Swiss watchmakers, known for their attention to artistry and precision, recognized vulcanized rubber's unrealized potential as a watch strap material. Rolex, Tudor, IWC, and Blancpain, as pioneers of fine watchmaking, began using rubber bands in their timepiece products.
This novel strategy challenged established standards and demonstrated the industry's openness to change. The marriage of traditional watchmaking knowledge and modern, cutting-edge material heralded a trend toward utilitarian luxury, responding to the changing needs and wants of discerning watch enthusiasts.
The Popularity of Rubber Straps Among Diver and Sports Watches
The widespread use of vulcanized rubber straps among diver and sports watches was a genuine breakthrough moment for them. Rubber's remarkable durability and waterproof nature proved to be a great match for these clocks, which were built to withstand the most harsh situations. Divers and athletes discovered vulcanized rubber to be a dependable partner that could survive the trials of water, salt, sand, and strenuous physical exercises.
Rubber straps' colorful color possibilities widened their appeal even further. Swiss watchmakers embraced the color pallet, creating rubber bands in everything from classic black and brown to eye-catching red, orange, and yellow. This dynamic spectrum enabled watch owners to express their uniqueness while also adapting their timepieces to various events.
The rise of vulcanized rubber bands represented a dramatic departure from tradition in the world of luxury timepieces. Rubber's outstanding characteristics – lightweight, water-resistant, and adaptable – drove the transition from traditional materials to rubber. Rubber band acceptance by Swiss watchmakers signified a move toward embracing innovation, and the popularity of rubber straps among diver and sports watches solidified its place as a true game-changer in watch accessory design.
Vulcanized Rubber's Exceptional Properties
Vulcanized rubber, a material that has emerged as a startling innovation in luxury watch accessory design, has a number of amazing properties that distinguish it from other materials. These attributes were crucial in shaping the success of the "First Rubber Strap for Rolex by Rubber B" in 2010.
Lightweight and Water-Resistant Nature
The outstanding lightweight quality of vulcanized rubber is one of its most distinguishing characteristics. This attribute correlates to a level of comfort that heavier materials, such as metal, just cannot match. This is especially important in the realm of luxury timepieces, where lengthy wear is frequently the norm. The lightweight nature of vulcanized rubber allows wearers to enjoy their timepieces for extended periods of time without feeling weighed down.
Furthermore, the water resistance of vulcanized rubber propelled it to the pinnacle of horological brilliance. Rubber straps, a material that repels water, salt, and moisture, have transformed the way watch enthusiasts interact with their timepieces. The "First Rubber Strap for Rolex," introduced in 2010, welcomed this property, allowing luxury watch owners to confidently wear their cherished assets in a variety of conditions, whether underwater or during outdoor activities.
Durability, Resistance to Sunlight, and Non-Rusting Qualities
Collectors and enthusiasts place a high value on the lifespan of a luxury watch strap. Vulcanized rubber excels here due to its exceptional endurance. Unlike leather, which can age and disintegrate over time, and metal, which can rust or oxidize, vulcanized rubber is essentially unaffected by these issues.
Incorporating sun-resistant rubber straps improves their tensile strength even more. This feature inhibits color fading and degeneration caused by prolonged sun exposure, ensuring that the vibrancy of the strap lasts over time. The non-rusting properties of vulcanized rubber minimize the need for routine maintenance and upkeep, allowing watch enthusiasts to enjoy their timepieces' flawless appearance without concern.
Comfort, Fit, and Adjustability for Various Wrist Sizes
Vulcanized rubber straps' capacity to provide unsurpassed comfort is a motivating cause behind their worldwide popularity. Their soft and flexible nature ensures a snug fit around the wrist, easily conforming to its curves. This translates to an unrivaled level of comfort, allowing wearers to enjoy their luxury timepieces without the pain associated with other materials.
The adaptability of rubber bands adds to their allure. Rubber straps can be readily changed to ensure a great fit regardless of wrist size. This adaptability eliminates the need for specialist sizing, making rubber straps available to a wide spectrum of people regardless of wrist size.
The remarkable characteristics of vulcanized rubber have played a critical role in reshaping the landscape of luxury watch straps. Vulcanized rubber has ushered in a new era of watch accessory design due to its lightweight and water-resistant nature, durability, resistance to sunlight, non-rusting properties, and incomparable comfort. The "First Rubber Strap for Rolex," created in 2010, used these capabilities to leave an indelible mark on the world of horology.
The Journey of Rubber B T Design
Few developments in the world of luxury watch accessories have left as indelible an impact as Rubber B's famous T Design. This design has not only revolutionized the landscape of rubber watch straps but has also become synonymous with style, comfort, and functionality. It was born out of a relentless quest for perfection and innovation. Rubber B's T Design's journey demonstrates the brand's dedication to pushing limits and achieving new benchmarks in horological accessory craftsmanship.
Continuous Research and Development Efforts
Rubber B's quest to refine the T Design has been marked by an unwavering pursuit of perfection. The brand's dedication to research and development has been critical to its success. A dedicated team of designers, engineers, and craftspeople has dedicated themselves to the pursuit of creative rubber technological advances.
Rubber B's drive for constant improvement has pushed the company to investigate new areas of rubber technology. The firm has continuously investigated ways to improve the performance and aesthetics of their T Design straps, from improving material qualities to refining manufacturing techniques. Rubber B's unwavering commitment to research and development has enabled it to create products that not only satisfy but also exceed the high requirements of luxury watch enthusiasts.
Achievements in Rubber Technology and Design
Rubber B's path has been distinguished by a series of exceptional rubber technological and design triumphs. The T Design harmoniously blends form and function with its distinctive "T" design. It is more than just a cosmetic feature; it is a well-thought-out design that improves the wearer's breathability, flexibility, and general comfort.
This attention to detail has been supplemented by cutting-edge rubber technology. Rubber B's use of modern materials and procedures has resulted in straps that are not only comfortable and long-lasting, but also resistant to water, sunlight, and other environmental elements. The success of the T Design demonstrates Rubber B's ability to combine traditional craftsmanship with modern innovation.
Calibrated Inserts for Specific Watch Models and Brands
Rubber B's commitment to providing calibrated inserts for certain watch models and brands exemplifies the T Design's adaptability. Recognizing that each luxury watch has its own distinct qualities, Rubber B has designed custom inserts to provide a flawless connection between the strap and the timepiece. This meticulously calibrated approach ensures a perfect fit, allowing watch enthusiasts to enjoy the T Design's superior comfort and performance with their prized timepieces.
Rubber B has raised the bar for watch strap personalization by paying close attention to detail. The calibrated inserts demonstrate not only the brand's devotion to perfection but also its goal of creating a tailored and exquisite experience for its clients.
Rubber B's T Design's journey has been one of constant pursuit, continuous invention, and unflinching dedication to perfection. The T Design has become an iconic embodiment of Rubber B's commitment to revolutionizing luxury watch accessories, from its inception as a revolutionary design to its current prominence as an industry benchmark. This journey exemplifies the brand's unwavering pursuit of perfection and its ongoing impact on the world of horology.
Protecting the Legacy of T Design
T Design by Rubber B's extraordinary journey has made an everlasting impression on the world of premium watch accessories. However, with innovation comes the risk of being imitated. Counterfeit goods and knock-offs have appeared, threatening the heritage of the "First Rubber Strap." It is critical to ensure the authenticity and quality of the T Design experience.
Issues with Counterfeit Products and Replica Knock-Offs
The proliferation of knockoff products attempting to copy the T Design's features coincided with the rise in popularity of the design; while these products may look similar to the original, they lack the exacting craftsmanship, technological advancements, and precision that distinguish the genuine T Design. Such replicas not only compromise the design's aesthetics but also fall short in providing the comfort and durability that Rubber B's original products are renowned for.
Importance of Purchasing from Official Sources and Authorized Retailers
One cannot overestimate the significance of making purchases from reputable companies and licensed merchants. Purchasing a T Design from the official Rubber B website or from licensed retailers is crucial for ensuring its authenticity. These reliable sources meet the high criteria for quality established by Rubber B, ensuring that the product is real and stands up to the reputation of the "First Rubber Strap."
Building and Maintaining Rubber B's Reputation for Quality
Rubber B's legacy is built on its reputation for quality. Each T Design exemplifies the brand's commitment to precision engineering, inventive design, and exceptional craftsmanship. Rubber B has created a name connected with elegance and excellence by adhering to these standards. Keeping this reputation needs a commitment to authenticity and a critical eye when making purchasing decisions.
The introduction of rubber straps was a watershed moment in the history of luxury watches. Rubber B's T Design embodies the tradition of the "First Rubber Strap for Rolex," exemplifying the union of innovation and style in horology. Rubber B has made a lasting contribution to the world of luxury accessories through rigorous research, precise engineering, and a devotion to authenticity.
The significance of the T Design goes beyond its functional aspects; it represents a paradigm leap in watch strap history. The T Design, as the pioneering innovation that gave the world the "First Rubber Strap for Rolex," set the way for a new era of comfort, durability, and style in luxury watch wear. It exemplifies Rubber B's commitment to pushing boundaries and upgrading the horological experience.
Who Created the First Rubber Straps for Rolex Watches?
Rubber B is credited with developing the first-ever integrated rubber strap for Rolex timepieces in 2010. The brand's commitment to invention and workmanship resulted in the creation of the "First Rubber Strap" – a groundbreaking design that not only introduced the world to the comfort and functionality of rubber straps but also left an enduring legacy in the history of watch accessories. The "T" design, which is a vital feature of this innovation, continues to represent a revolutionary leap in luxury watch straps.
What Separates Rubber B From Other Watch Straps?
Rubber B has become well-known as a highly respected crafter of custom rubber watch bands for timepieces from some of the most respected watchmakers in the field, including such brands as Patek Philippe, Rolex, and Audemars Piguet. Rubber B has a variety of straps in different colors and styles in our product portfolio that are appropriate for both business/formal wear and more casual situations as well.
Every Rubber B custom rubber watch strap is made only from 100% vulcanized rubber, and all of our products are FDA and BVGG compliant as well.
Do You Need a Custom Rubber Watch Band For Your Luxury Watch? Visit Rubber B Today
Rubber B watch straps do not contain any coating, blends, or bonding, and each and every strap undergoes rigorous testing to ensure that it meets quality control standards.

If you would like to learn more about our complete list of products, shipping policies, and pricing, or have questions about our custom rubber watch straps, please visit the Rubber B website today for more information. One of our valued team members will be happy to answer your inquiry in a timely manner.
Follow Us on Instagram