The Kanye West watch collection includes everything from traditional Rolex timepieces to one-of-a-kind horology items. Kanye West enjoys wearing watches, gold bracelets, gold necklaces and other bling, both in public and on stage.
Who is Kanye West?
Kanye Omari West was born on June 8, 1977 in Atlanta, Georgia. He grew up in Chicago and became a well recognized producer for Roc-A-Fella Records in the 2000's, working with many artists including Jay-Z, where he helped to make "The Blueprint" one of the most acclaimed hip-hop albums in history.
Soon Kanye (aka Ye) came out with his own hip-hop/rap album in 2004 "College Dropout" and simultaneously launched his own record label, simply named "GOOD Music." He developed unique sounds and pulled together multiple diverse musical components including Gospel, Synth Sounds, Orchestra and Autotune to create layered modern musical masterpieces.
Kanye has worked with Ludarcris, Alicia Keys, Janet Jackson, Jamie Foxx, John Legend, Eminem, and many many more artists over the years. Besides his own label GOOD, he has been connected to Def Jam, Roc-A-Fella, and Mercury. He gained even more widespread appeal when he married Kim Kardashian. He funneled his newfound fame into a powerful fashion design lineup that includes collaborations with Nike, Louis Vuitton, The Gap, and his widely popular Yeezy line which is a collaboration with Adidas.
Kanye has sold over 160 million records, 133 hits on the Billboard Hot 100, and has won 24 Grammy Awards, making him one of the most successful musicians in the world. His net worth is estimated to be north of $2 Billion, which makes him the richest musician in the world.
Kanye West enjoys wearing his gold Rolex Daytona on a strap. This Rolex comes with the Rolex leather strap.
The Kanye West Watch Collection
In the picture above we can see that Kanye West loves this Rolex Daytona which appears to be the model 116515LN with 18k rose gold and a black leather strap.  This gorgeous timepiece features the calibre 4130 with a 72 hour power reserve, and a chocolate dial with black colored Arabic numerals as hour markers.
This is a gorgeous timepiece and is not one of the more commonly advertised Rolex timepieces.  Yet it is a highly sought after Rolex Daytona, with excellent style.  This timepiece isn't being sold today at Rolex but could be purchased after market for over $50,000.  Kanye combines the wearing of his Rolex with a matching thick yellow gold bracelet on top of the timepiece.   
Kanye West is often seen wearing a yellow gold Rolex Daytona on a leather strap.  This timepiece has a black leather strap, yellow gold case and a white dial. We can see that he combines this Daytona nicely with his suit jacket, an oversized black t-shirt and leather pants.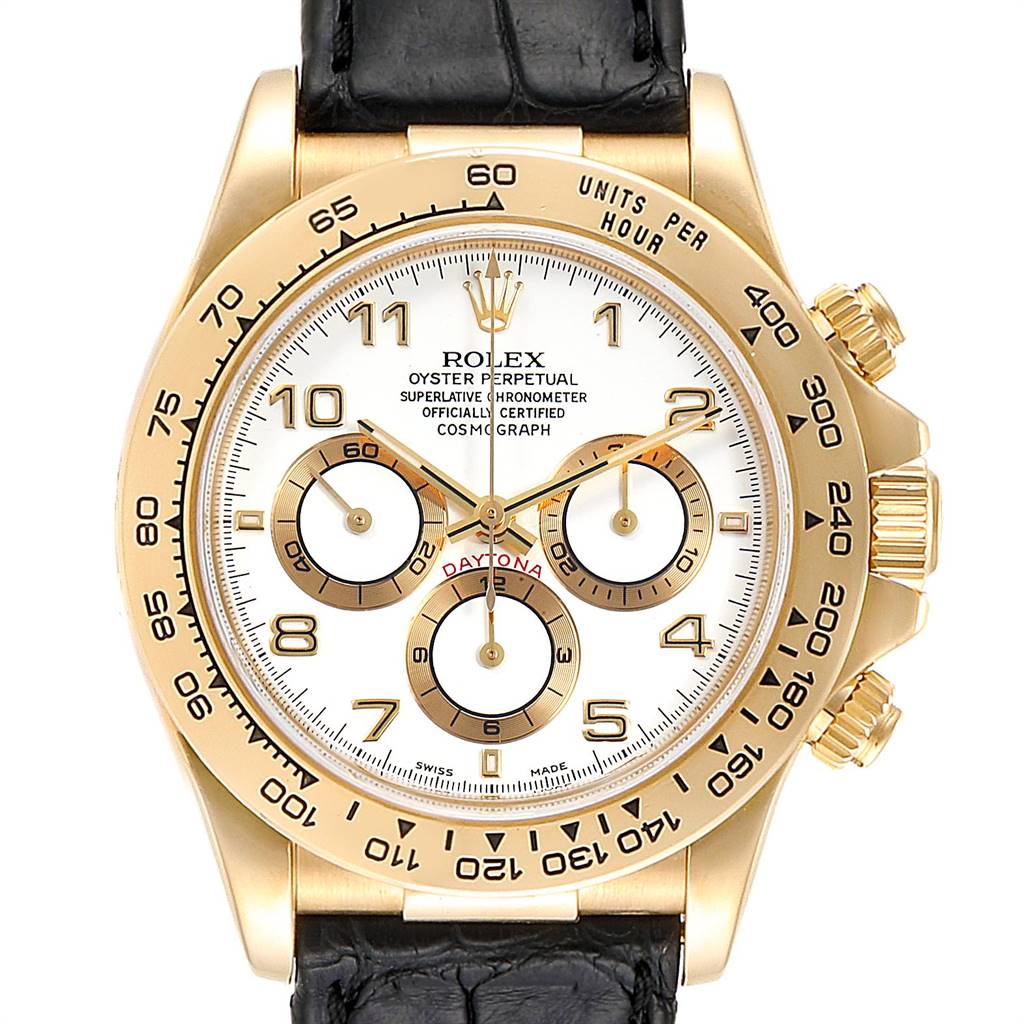 It is a bit difficult to tell whether the Rolex Kanye has is the version with Arabic Numerals or an older one with diamond studs surrounded by gold.  It is likely, though, that Kanye chose the newer model pictured above with the Arabic numerals rather than the older reference 16518.  We know that Rolex discontinued leather in 2020, so his purchases must have been made between the 2010 and 2019 period.  Today, a similar Rolex Daytona would come with an Oysterflex band, a black bezel rather than gold, and luminescent hour markers rather than Arabic numerals such as in this reference 116518LN.  
Kanye West can be found strolling down the street with his Rolex Daytona, dressed down with casual clothes, just as he would with a suit.  He appears to like the style of the Rolex and the comfort fitted leather band with gold clasp.  
Kanye can also be seen with a Salvidor Dali style Cartier timepiece.  This Cartier Crash is quite different from the rectangular timepiece that is so well known.  The "crash" could be dubbed the "drip" instead because the case and dial appear to be melting and is distorted, similar to a clock in a Dali painting.  It also has a black leather band and the same winding crown with gem tip found on other gold Tank Cartier watches.  In fact it looks almost like the gold Tank was melting as if it were an ice cream left out in the hot sun.  
There is not shock that the Casio G-Shock was one of Kanye's early timepieces.  It is so easy to wear, and easy to read both in day and night time due to its light up feature.  The digital display makes it more accurate than even the finest Rolex timepiece.  Plus it gives you the Day of the Week, the Month and Day, besides the precise time down to the seconds.  
Even for fine watch collectors, the Casio G-Shock will often become the lowest priced member of the collection, even though it is still held in the highest esteem.  For Kanye, he would also go for bright and wild colors such as Orange, Pink, Baby Blue, and so on.  Most of these G-Shock timepieces go for as little as $60 and rarely go over $500.  This is a perfect watch to bang around onstage and not worry if a rabid fan rips it off of your wrist in the middle of a set.